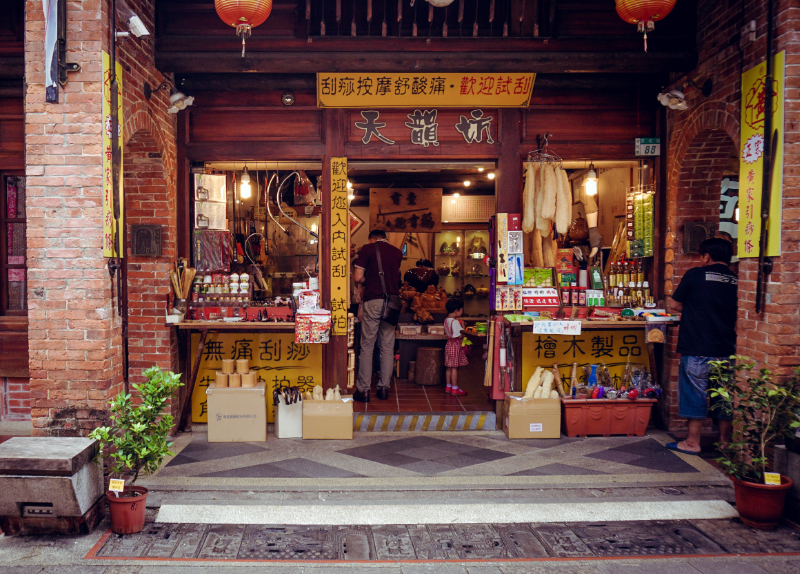 Among other interesting things, the Berlin Underground has vending machines for sweets at some stations. One summer morning a few years ago, I went on a trip, deeply focused on my mobile browser, when I got a message on my phone: "Please rate this vending machine here...". How? What? Why? There was no machine nearby, or was there? And how did it know to send that text to me? It turned out to be a (now obsolete) feature called "Google Nearby". A Bluetooth Low Energy (BLE) beacon in the vicinity can announce an ID, that can automatically be resolved to a message and URL via Google. Well, naturally I wanted one of these beacons to play around and announce my own twisted message to fellow travellers. So I went online and found the Eddystone Bluetooth Low Energy beacon fairly cheap on Aliexpress. Aliexpress is a huge Amazon-like competitor in non-western world countries, that delivers world wide. I bought the Eddystone and waited, waited some more and finally the package arrived a few weeks later. The Eddystone came with no manual or description whatsoever and the internet was not very helpful when it came to this particular device. So I contacted the seller and complained (quite rudely in retrospect) that the item did not work as expected. The answer included a binary-only APK file for Android, that may or may not be able to program the Eddystone. I never came around to executing this untrusted code. But I bought another few BLE beacons from somewhere else, that actually worked pretty well out of the box. During the following two or three years I kept broadcasting funny messages via BLE wherever I went and every once in a while someone actually clicked on my link. That was that. End of story.
Half a year after the eddy stone experiment, I ordered another item. I know, that was risky, but a couple of weeks later exactly no parcel arrived, so the seller reimbursed me without problems. Seeing that my experience this far was unsatisfying, I left it at that.
It was three years later, when I was looking to find noise cancelling headphones for a lot less than 300 Euros. The best of the best at the time were Sony XM3 (~ 300 EUR), Some Bose Headphones (~ 350 EUR) and Sennheiser PCXsomething (~ 200 EUR). The rest was not worth mentioning - at least that is what the Internet suggested. That's when I rediscovered Aliexpress and other Chinese online shops, and there are a few - Gearbest, Banggood and Aliexpress seemed enough to explore for now. Gearbest, as the name suggests, actually has the best gear, but most of the time not the best prices, so I kept it for comparison, not for ordering anything. Banggood seems to have really low prices, but not as much selection as Ali, so I kept Banggood for comparison only as well.
After finding a couple of headphone brands nobody ever heard of, I looked at reviews and an entirely new world of youtube product review videos opened up to me. I had no idea that that is a thing now. Unboxing videos, yes (even though I never got their appeal), but review videos. You should check it out right now. There are people buying amazon returns in huge quantities while having fun. There are high end audiophile people reviewing very bad headphones. But underneath it all, it is somehow possible to form an opinion about these formerly unknown brands. So I went ahead, bought a pair and don't regret it. They are superb and last forever with one charge - for ~80 EUR and uncountable hours of "youtube research". Thank you internet. (BTW. I got the Edifier W828NB.)
Most other orders I have made since then came through without anything remarkable to say about them, but there are some exceptions:
Really cheap 50W LED lights for the office: These things have a CE certification, but they get really really hot, so I ordered a couple of radiator plates, too, in order to prevent a fire hazard.
Some electronic component: It got held back at the customs office. A letter from the local postal service kindly offered to take care of the matter for about 30 EUR service fee, so I rather went to the customs office myself, only to hear, that as a company with a valid EORI number, you can take care of everything via email. Ok. Good to know.
Android tablets (for work): Apparently the seller sent very low quality tablets with really bad chipsets instead of the ones described in the order. I tried, I really tried to talk to the seller. First I took a few photos of the bootloader in chinese characters - no problem thanks to Google Lens, which translated for me on the spot. But the seller demanded videos. So I took a video of the very same bootloader and uploaded it to the seller chat, but the seller preferred to watch the video on youtube. So I uploaded the video to youtube, only to receive a message, that this is the tablet currently sold and not an old version as I suspected. With Aliexpress there can only be a formal dispute opened within 15 days after receiving the goods, so I opened up such a dispute at the last minute, followed by the seller begging me to close the dispute. Aliexpress as the mediator set an appropriate refund amount for the tablet, but I had to provide further evidence to get more. So I made yet another video, uploaded the video to youtube and their dispute platform. A few days later the issue was settled with the mediator's help. Ok. Moving on.
Some other electronic component: This one order was cancelled by myself. The cancellation had to be confirmed by the seller, but it all went well.
Android Tablet Covers: This seller contacted me after ordering, that he might loose his job, because incidentally the shipping cost was not included, so I should buy a void item to cover the shipping cost. This must be a scam, and that is what I wrote to the seller. For some reason the items have not arrived yet.
A camera: Yes. Surprisingly there are high quality goods on Aliexpress. I did not expect much, but this is one of the best cameras I have ever owned, a Yi M1 with two exchangeable MFT lenses. I must say, wow. At a price lower than 150 EUR at a sale this camera can easily compete with professional high-end >500EUR cameras. It is fast, easy to learn, easy to use, there is current software available for the camera and for the lenses as well. The image quality is stunning both in dark and in bright environments. So far I only went with Canon as my go-to camera brand, but this camera may just break that habit.
Portable Bluetooth speaker: Well, it was supposed to be a stereo speaker and all I got was mono. But other than that, this little <10 EUR gadget can easily keep up with any of the brand name products and has been fun to use around the house so far.
A few USB cables: One can never have enough USB cables. But apparently my phone requires an extra 0.5mm plug length to fit in properly, so all of 184 cents got wasted. Too bad.
A USB-C cable, that was broken: The seller wanted a video of the cable "not working". So I uploaded such a video to youtube, but seller insisted on receiving the video via email. I received a refund a few days later - most of it anyway, since USD/EUR currency conversion is in flux and Paypal kept a few cents for the transaction, too. I won't prepare videos for all the damaged items it the future, but just to check if it actually works and how the seller handles complaints, it was worth trying it out.
Cheap storage bag for electronic components: Well, it stinks. After a couple of days on the radiator, it still stinks a bit, but hopefully that will be a matter of waiting it out.
Experiment: A banggood order: It looked like the item was still available, but once ordered it was out of stock. The friendly customer support chat was successfully able to quote their default "out-of-stock" guideline, but I may cancel at any time. A few days later - after contacting the customer support again - it turned out, that my address field with more than 30 characters is too long for the carrier. Still waiting to this day. I do not understand this platform.
Lessons learned? Let's see.
The concept of Aliexpress is a marketplace for numerous sellers, just like third-party sellers on Amazon.
Prices on the mobile app are sometimes lower than via desktop browser, so I usually fill up the shopping cart on the desktop and start the order on the mobile browser, at least with Aliexpress. The shopping cart is very similar to another wish list and for each order specific items from the shopping cart can be selected individually. banggood on the other hand has separate shopping carts for each session, which I found to be not very user friendly.
Under the hood the Aliexpress Mobile App became a Progressive Web App (PWA) in 2016, one of the first at that scale, which I find pretty impressive. There are games, shows, recommendations, and lots of possibilities to interact with buyers and other sellers. Providing feedback including photos is encouraged by getting coins and status points, which may or may not result in getting coupons to save minuscule amounts of money. Personally I tend to keep out of too many distractions in favor of my real life, but it was really fun playing around with all the little app add-ons once or twice.
When ordering lots of little things, each new package in the mailbox is another nice surprise for the day. It feels a bit like opening Christmas presets, but all year.
Delivery time usually ranges from 4 to 6 weeks, sometimes even more, sometimes less. Packages usually come with a tracking number in order to see shipment progress. Letter size parcels are usually not trackable. I think having such a long delivery time calms down the everyday life nicely.
Getting a commercial invoice with accurate numbers for tax purposes is a matter of chance. You can try, but the default is not to get a proper invoice. In fact, there are a couple of businesses that specialize in creating Aliexpress invoices, for a fee of course.
Returning items is impossible. Return fees are never paid for and most items are worth less than it would cost to return them.
At last, a few numbers: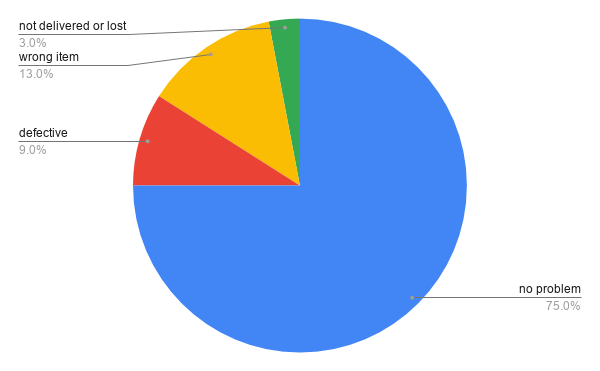 75% of all orders completed successfully.
9% of items were defective.
13% of items were either wrong or the product description did not match the product.
3% were not delivered or got lost in transit.
All in all it has been a fun trip to explore the foreign B2C market. If you ever need something that may or may not work properly, that is of unspecified quality and arrives some time within the next couple of weeks, there you go. For personal use this may be ok. For my professional use cases, I'd prefer next-day delivery, quality control, hassle free returns and proper invoices instead.